Are your employees ready to have some fun while covering a wide variety of important health topics?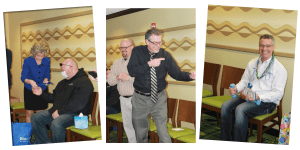 Focusing on health and wellness shouldn't be a boring event where employees feel scolded for not making healthy decisions constantly. Health Design believes wellness initiatives should be fun and welcoming, while learning a little more about staying healthy!
We offer a wide variety of Lunch & Learn Seminars, including:
Make Health Easy: Fall in Love with Taking Care of YOU
Stress Management: Opt Out of Stressing Out
Ergonomics: Aligning You for Injury Prevention
Back Safety: Help My Aching Back
Find Your Happy Bubble: Happiness is a Healthy Choice
Smoke Cessation: Successful Strategies to Kick the Habit
Getting Your Zzzz's: The Importance of Sleep
And more!
Employees love benefits that help them improve their health and wellness; employers benefit from employees who are happier and more productive!
Customized topics available.
Video conferencing available.
CLICK HERE for more information or email carol@HealthDesignNH.com.